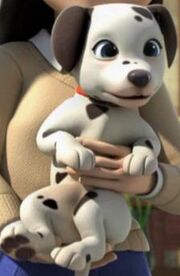 Mondo (as per the end credits and TV guide description, however Ivan calls her Luna in English audio) appears in Dalmation Doggercise. She (Jett says "down girl") is voiced by Alexandra Eden.
Ad blocker interference detected!
Wikia is a free-to-use site that makes money from advertising. We have a modified experience for viewers using ad blockers

Wikia is not accessible if you've made further modifications. Remove the custom ad blocker rule(s) and the page will load as expected.